ETI FM-200 Fire Suppression System operating system works without or with human intervention. That is, the ETI Fire Systems FM-200 can operate fully automatically without human assistance. Yes, this smart device is capable of detecting and will immediately take quick steps to take fire suppression in just 10 seconds.

ETI Fire Systems FM-200 is ideal for:
– Ship, Tug Boat
– Train
– Electronic Equipment and Data Processing
– Fisher Room
– Banks and Stock Exchanges
– Museum
– School or University
– Electricity room
– Library
– Control room
– Hospital / Operating Room, Laboratory etc.
– Archive Storage Space
– Telecommunications facilities
– Traffic Control Terminals, stations and airports are specially designed to protect against fire hazards which are operated to automatically detect the source of fire and fire and immediately extinguish it.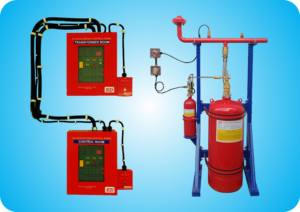 Advantages:
Reduces the risk of downtime and helps maintain business continuity in the event of a fire.
Clean and leaves no residue, safe to discharge into occupied space.
The Design concentration for 95% of its applications falls far below NOAEL.
Cost effective engineering systems provide maximum protection.
Proven Reliability – tested on a variety of detection and control options.
Sustainable Technology provides environmentally friendly solutions.
Quick blackout.
There is no additional damage.
Safe for humans.