ETI POWER MAX PROGRESSIVE SYSTEM
The ETI Power Max delivers lubricant with a progressive piston movement. Every piston controls the following one in a sequence obtained through a single delivery flow.
The ETI Power Max systems have proven to be right solution for many industries and applications, eliminating costly downtime. Examples include :
Mobile Equipment:
Excavators
Wheel Loaders
Haulers
Motor Graders
Off road Tractors
Trucks of all types
Multiple Axle trailers
Hydraulic Hammers
Street Sweepers
Buses
Etc
Industrial Equipment:
Cement plant
Dewatering
Handling equipment
Wood processing
Wind Energy
Turbine
Printing & Packaging
Metal working
Beverage industry
Plastic processing
Paper plant
Food/Bakery
Lathes
Textile
Etc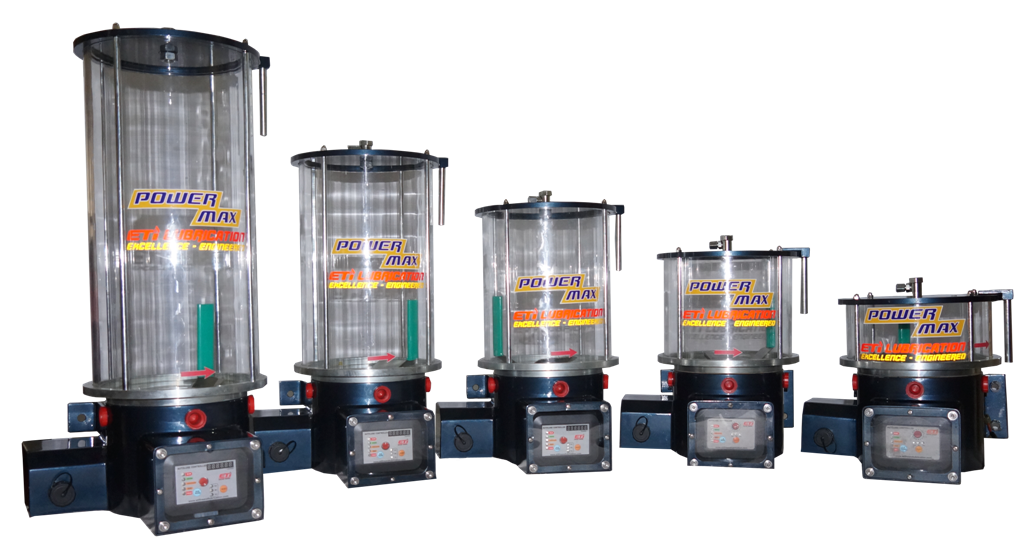 Grease pump capacity: 3, 5, 7, 9 and 12Kg.  ETI  Power Max Grease body is  made of Carbon Steel S45C.
Resistant to: Impact, UV and Vibration during operation.
Benefits:
Positive delivery of a measured quantity of lubricant guaranteed
Long operational life assured by a careful selection of high grade material and strict quality control
System design flexibility due to large range and combination of sizes
Suitable for system functioning control
Operation monitor with indicators and/or contact plugs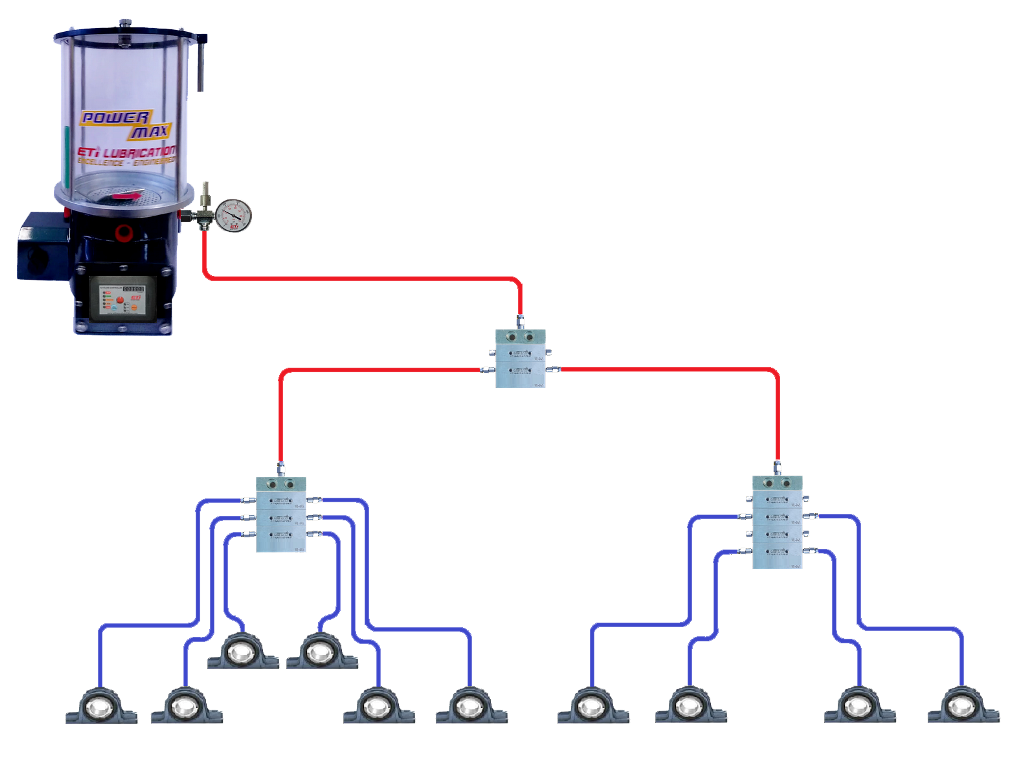 Data Sheet
| | |
| --- | --- |
| Reservoir Capacity | 3 – 5 – 7 – 9 – 12 Kg |
| Pump Power Supply | 12/24 VDC – 220/380 VAC |
| Operating pressure | Maximum 4000Psi (300BAR) |
| Operating temperature | -20°C a + 100°C |
| Pump Elements number | 1 to 3 |
| Pump element displacement | ( Ø 6mm ) 2,5 cm³ |
| | ( Ø 6mm ) 5,0 cm³ |
| Lubricants Type | Grease NLGI-00 up to NLGI-2 |
| | |
| Enclosure Rating | IP67. (Protected from water sprayed in all directions) |
| Pause time adjusting | 1 minute – 90 Hours |
| Run time adjusting | 1 minute – 90 Minutes |
| Warnings | Broken fuse, Fault, Alarm/Buzzer |
| Divider number | 4 to 14 Output |
| Discharge/Stroke for each outlet of Divider | 45mm³ – 105mm³ – 140mm³ |
| Body Distributor / Divider | Carbon Steel S45C |
| Distributor Inlet | 1/8″ BSP – Female |
| Distributor Outlets | M10 x 1 – Female |
| Main distribution line | Hose  Ø 8mm |
| Secondary distribution line | Hose  Ø 6-8mm |