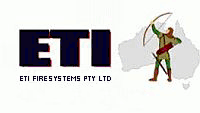 PT. ETI FIRE SYSTEMS

ETI FIRE SYSTEMS :
1. Dual Actuation Systems

The Patented ETI Dual Valve can be used in a system to obtain the advantages from both ROP and LOP to create the markets best solution. The dual valve uses the LOP detection in the critical fire risk area for fast detection and constant system supervision, and the positive and reliable pneumatic pulse of ROP from the manual actuators thereby greatly reducing the risk of system leaks and prohibitive unscheduled downtime.

2. Rise Of Pressure (ROP) Systems

The ETI ROP system is very robust and extremely resistant to false alarm, allowing the equipment to achieve uninterrupted higher productivity and operating hours. The system requires normal preventative maintenance practices to ensure it is ever ready to perform flawlessly. The detectors are not supervised as in other systems so they are used in tandem, this is a control method called double redundancy and is required by the standard.

3. Loss Of Pressure (LOP) Systems

The ETI LOP system responds very quickly to fire detection when it is used in the risk area. It constantly supervises the actuation circuit. One feature of LOP system is that the actuation and detection system are constantly pressurised by the nitrogen charge in the cylinder which makes it supervised system. This type of detection systems is simple to route in the fire risk area due to the flexibility of the thermoplastic tube.

4. Fire Wire Systems

The ETI linear electrical fire wire is an excellent method of fire event detection. It is unique in the market because it uses a purpose designed and manufactured three core cable. There are two signal cables and an uninsulated copper wire all sheathed into one insulated wire that is connected to the ETI control alarm. All linear electrical fire wire detection systems must use an System Control and Indication Panel.

5. Optical Systems

This system has much faster and more sensitive fire detection. It also constantly supervises the actuation circuit. The detector contains three IR sensors and provides unsurpassed detection of flame; from light to heavy hydrocarbon fuels, combined with the highest degree of false alarm rejection. The detector has Division and Zone explosion-proof ratings and is suitable for use in indoor and outdoor applications with its IP66 rating. A multi-colour LED on the detector faceplate indicates detector status condition. Microprocessor controlled heated optics increase resistance to moisture and ice if cold climate operation is planned.

6. ETI Ceramic Coating

The major cause of fire in all heavy mining and industrial engines and equipment is flammable liquids coming into contact with the exhaust manifolds and turbo chargers !
Supported By
Visitor