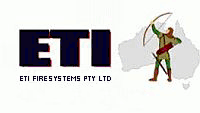 PT. ETI FIRE SYSTEMS
---
Heavy mobile and stationary machinery represent substantial investments. Loss of this equipment, production and subsequent danger to the associated personnel is ever-present. Whilst mining is perhaps the major application for the ETI fire system, there are a multitude of other applications including, forestry, construction, power generation and marine equipment operating in harsh environments inside, outside, underground and at sea.

The installation of a fire detection and suppression system is essential to minimise the risk to both operator and equipment, and is a mandatory requirement in many of the states of Australia.

With many modern vehicle or equipment designs, the operators are often positioned well away from the location of the fire risk. Modern cabs are well insulated from noise and temperature, and operators may not be aware of the presence of fire in their equipment until it is beyond the control of normal portable fire extinguishers. Faced with these dangers operators can and do panic and in most cases abandon the equipment rather than undertake first aid fire protection.

Field experience had shown the need for improvement over earlier Dry Chemical Powder suppression systems. These systems generally suffered from compaction of the powder, and often resulted in less than efficient operation. Similarly, the release of a large cloud of chemical powder contributed substantially to the operators visibility and ability to escape as well as serious respiratory difficulty due to inhalation. The advantage of Aqueous Film Forming Foam over gaseous, dry chemical powder and vapourising liquid systems is their ability to control fire after the discharge is complete, to cool hot spots preventing re-ignition and to flow with the fuel spills underneath the vehicle.

ETI is leading in the development of foam protection systems, having one of the most experienced people in the business at its helm. These systems have been installed on thousands of vehicles and other equipment over the past 20 years and have proved themselves as successful fire detection and suppression systems.

Following on with ETI's commitment to continual improvement, we have now adopted and further refined this system based on years of field experience. The ETI system has brought to the market the increased performances that the changing market demands. (See our Superagent in the Products section!)
The ETI system has been developed particularly for all international markets where world leading performance is demanded. It was designed to exceed the performance of the best on the current market. From 40 degrees Celcius below zero in Manchuria to 50+ in outback Australia, ETI has the solution.
Australian Standard AS5062-2006 is the standard for this market and ETI complies to the 'Fully Engineered' part of that standard. Particularly with our web based design and risk assessment package which produces all the documention needed to risk assess, design, commission and maintain for the life of the machine.

The ETI Fully-Engineered Foam System has been designed to add benefits like:
Flexible Siphon Tubes for horizontal cylinder mounting.
Reinforced extra strong brackets with smallest possible space demand.
Larger capacity 2mm stainless steel cylinders with higher flow valves.
Ease of installation
Ease of maintenance
3 Year standard warranty
Rise of Presure, Loss of Pressure, Fire Wire Automatic Detection and Actuation
Optical Infra Red automatic detection and actuation for high level risks such as Excavators

All of these features put the ETI Fully-Engineered Foam System ahead of its rivals. The Fully-Engineered Foam System has been designed to allow various levels of protection from fully automatic detection and suppression systems with full engine shut down and cab monitoring to simple suppression only systems with manual actuation. Customers can decide for themselves what level of protection or standard they wish to install on their equipment to meet local regulations.
Comprehensive Customer Handover Manual
Commissioning documents
Maintenance programme and support documentation
Installation and support worldwide
Why Engineered ?
The ETI Fire System has the most advanced engineering process on the market today. ETI has achieved a listing under Australian Standard AS5062-2006 as a fully engineered system. Our listing process is recognised by the National Associaton of Testing Authorities (NATA) Australia and recognised worldwide through the Mutual Recognition Programme.

Fully Engineered systems require specific design and attention to detail rather than pre-engineered "off the shelf" systems which are merely adapted to the job from readily available items from the agricultural and LPG industies.

Supported By
Visitor